A Different Needle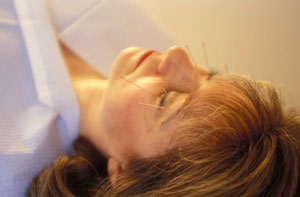 A Different Needle
Facial acupuncture offers a natural alternative to Botox injections.
By Susan Weiner, Energy Times, April 2008
When the slender needle pierces the furrowed brow between my eyes, the pinprick quickly gives way to a calming, almost euphoric sense. Waves of pleasure surge from my forehead into my brain before traveling down my shoulders and along my spine. I feel completely and oddly at peace.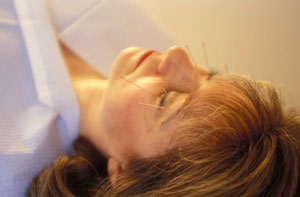 "That point is called Yintang and it is a point to calm and balance the shen, or spirit," explains Neil Weinberg, LAc, DiplOM. He is the acupuncturist I've visited to learn about facial rejuvenation acupuncture, a practice reputed to reduce puffiness, wrinkles, fine lines and dark spots. "What you were feeling is called the 'qi response,' which is sometimes experienced as a profound sense of balance, relaxation or harmony," he adds.
The idea that a virtually painless acupuncture procedure could induce such a joyous state while visibly reducing wrinkles seemed too good to be true. Considering that nearly 11.5 million cosmetic surgical and non-surgical procedures were performed in the US in 2006—a 446% increase since 1997—laugh lines are clearly no laughing matter. Maturing women and men are increasingly willing to endure the dangerous risks associated with surgery, chemical injections and harsh peels. In fact, the most frequently performed procedure, reports the American Society for Aesthetic Plastic Surgery (ASAPS), is injection with Botox, or purified botulinum toxin. Botox can reduce wrinkling by paralyzing facial muscles, but it requires repeated injections and can cause such side effects as headaches, difficulty swallowing and upper respiratory infections.
Promoted as an alternative to such risky and expensive procedures, facial rejuvenation acupuncture, also known as cosmetic acupuncture, has been practiced as far back as 960 AD, when the royalty of China's Sung Dynasty used it to engender beauty and good health. Practitioners claim it helps the whole body look and feel younger by addressing the physical, mental and emotional patterns that contribute to aging. Moreover, facial rejuvenation acupuncture is reported to improve muscle tone, increase collagen production, tighten pores and boost circulation and moisture in the skin. These kind of results have attracted high-profile attention; ardent fans of this procedure are said to include Madonna, Gwyneth Paltrow and Cher.
"They call it facial rejuvenation, but the whole body undergoes some rejuvenation and revitalization every time you get acupuncture," says Weinberg, who treats numerous clients with facial acupuncture at the Integrative Medicine Center in Ithaca, New York, and at Complementary Medicine and Healing Arts in nearby Vestal. "The treatment is to basically reduce aging and maximize health. Different people are going to get different points in the body and the face."
Weinberg asks detailed questions, palpates pulses, examines the tongue and determines the skin quality, facial traits and body type of a client before beginning treatment. He offers them a choice: facial needles only a quarter-inch long or a needle-free, micro-current option called an Acutron. Chinese herbs are an important part of the facial rejuvenation protocol, with formulas customized to balance the individual's constitution while helping to continue the effects of the acupuncture between treatments.
More Than Skin Deep?

The theory behind facial acupuncture contends that thin needles inserted into wrinkles and frown lines stimulate energy and relax the muscles as blood rushes to the surface. The muscles then tighten, which decreases sagging of the facial skin. The needles also stimulate the cells to create new collagen fibers, filling in fine lines and wrinkles.
Though there is nothing new or trendy about facial rejuvenation—the Chinese have practiced the healing art for more than 5,000 years—little formal research has been conducted. One large-scale study, published in the International Journal of Clinical Acupuncture in 1996, revealed that of 300 individuals receiving facial acupuncture, 90% saw marked results after their first course of treatment. A treatment typically runs 10 to 15 sessions with periodic follow-up sessions.
In a society that clamors for immediate gratification, facial rejuvenation acupuncture offers less risk, expense and recovery time than medical alternatives, since the only real side effect of facial acupuncture may be bruising. But can the treatment offer the same results as more invasive—and far riskier—procedures? Quite possibly, according to Ronit Gesundheit, MS, LAc, at the Healing Arts of Marin in Novato, California.
"Facial rejuvenation is a non-toxic alternative to surgery and other chemical procedures," says Gesundheit. "A reduction in wrinkles as well as improvement with droopy eyelids, sagginess and age spots are all among the results that can be expected from a series of treatments. But the benefits go beyond the surface."
The face can be looked at as a microcosm of the whole body, so wrinkles, lines and age spots are clues that tell the acupuncturist what needs to be balanced internally, says Gesundheit. "In this way, facial acupuncture treatments help to fade both the wrinkles and other symptoms, commonly issues relating to stress, sleep, hormones and digestion. Treatments are relaxing and have the added benefit of a radiant glow that comes from a balanced system, inside and out."
Facial rejuvenation acupuncture just may be an aging girl's (or guy's) new best friend. While the treatment can't reshape a nose or a chin, it may take years off a face, safely and naturally. "It's not going to be as pronounced as a facelift," says Weinberg. "On the other hand, you're not going to look like a Stepford wife."