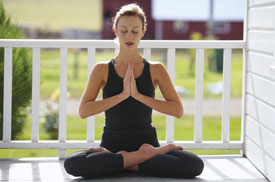 The Heart of Yoga
A 5,000-year-old approach to a healthy cardiovascular system.
By Susan Weiner, Energy Times, February 2009
Can the calming rhythms of yoga help your heart the same way as an energetic 30-minute walk? The answer for many with cardiac disease is a resounding "yes."
"I would call it a lifesaver," says John Periolat, 76, of Charlottesville, Virginia, who attended Cardiac Yoga classes at the University of Virginia following a massive heart attack 14 years ago. "But I don't think it's widespread enough."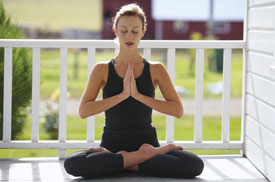 A modified form of yoga focusing on cardiac patients, yoga for heart disease reduces heart rate and blood pressure in addition to calming the nervous system. It also increases exercise capacity and lowers inflammation levels, as shown by an ever-growing number of research studies. Patients use mats, pillows and chairs to ensure comfort while they perform yoga's gentle exercises; although it may sound like barely enough motion to break a sweat, the positive effects of cardiovascular yoga are measurable.
Eight weeks of yoga helped to safely improve overall quality of life in 19 heart failure patients, even reducing markers of inflammation associated with heart failure, according to a November 2007 study by researchers at the Emory University School of Medicine in Atlanta. Meanwhile adults with metabolic syndrome, a cluster of conditions that significantly raises cardiovascular risk, were able to reduce their waist circumference, blood pressure, blood sugar and triglycerides after practicing yoga for just three months (Diabetes Research and Clinical Practice 12/07).
"Cardiac Yoga changed my life," says the now-retired Periolat, a self-described former type A personality who lives at a more relaxed pace and spends his time volunteering—a far cry from his days as a Navy captain flying F-4 Phantom fighters. Periolat studied with Mala Cunningham, PhD, counseling psychologist and founding director of the Cardiac Yoga Program in Charlottesville. "I was in a hole so deep, I couldn't see any light," Periolat says. "Dr. Cunningham's Cardiac Yoga classes yanked me out of it and put me on my feet again."
Heart-Friendly Hospitals
The clinical documentation behind yoga's considerable medical benefits is recognized at hospitals throughout the country, from New York Presbyterian in New York City to Cedars-Sinai in Los Angeles, where Cunningham's Cardiac Yoga and other yoga programs are available to heart patients. "Cardiac Medical Yoga is a gentle program designed for individuals who have limited mobility," says Cunningham, author of Medical Yoga (www.cardiacyoga.com). "It's been completely modified and looked over by a cardiologist and an exercise physiologist to address the needs of cardiac patients." Cunningham, who certifies other Cardiac Yoga instructors, uses the acronym BREAD to define what Cardiac Yoga is all about: Breathing (known in yoga as pranayama), Relaxation, Exercise/Yoga (through poses known as asanas), Attitude and Diet.
Yoga's relaxing, meditative component may help stabilize the lining of the blood vessels and lower stress hormones, triggering a chain of events that minimize the risk of heart attack or stroke. In a 2004 Yale University School of Medicine study, people who meditated and did yoga three times a week experienced a dramatically reduced risk of cardiovascular problems.
Yoga helps to ease anxiety, which has been linked with increased heart attack risk in older men (Journal of the American College of Cardiology 1/15/08). In addition, "it helps to activate the parasympathetic response, which helps the body relax," explains Cunningham. She adds that this makes yoga helpful for not only heart patients but for anyone who wants to avoid cardiac problems in the first place.
A Larger Heart
Some yoga teachers believe this ancient practice can also bring healing on a larger scale. Mahamandaleshwar Paramhans Swami Maheshwarananda, known simply as Swamiji, says that yoga's benefits extend beyond better heart health; he thinks it is a pathway to individual balance that can lead to improved relationships and, ultimately, a stable society. Swamiji travels the globe teaching Yoga in Daily Life (www.yogaindailylife.org), which is taught in a step-by-step method, making it accessible to intellectualized Western thinking. Yoga in Daily Life can be practiced by people of all ages and in all states of health, but can be especially helpful for those with heart disease or high blood pressure.
"Stress is considered to be a major contributing factor to heart disease," says Swamiji. "Yoga emphasizes relaxation through breathing, asanas and meditation, which makes it an extremely effective method for reducing stress and the associated health problems, as well as a great way to improve circulation." His recommendations for a healthier heart include eating organic foods, reducing dietary fats and sugars, drinking plenty of pure water and taking 30-minute walks, in addition to practicing yoga postures at home and attending a yoga class at least once a week. And Swamiji reminds us that there's more to having a healthy heart than perfecting postures, breathing and meditation: "Laugh every day because it will make your heart light."
Whether you're looking to improve an existing cardiac condition or simply keep your heart healthy, yoga provides a gentle, yet powerful, approach to well-being.